We had a really good Riddle !
Yes, it's that time of year when we head up to Shipway's woodyard on Iron Hill to collect some kindly donate composted wood chipping as mulch, ready to put on the flower beds once we've done summer planting.
For those of you who have never Riddled on this scale (something which should be on everyone's Bucket List), this is our Riddling Machine…..
Basically a vibrating whacker plate mounted onto a large sheet of wire grids.  This contraption is attached onto a monster machine to raise it off the ground….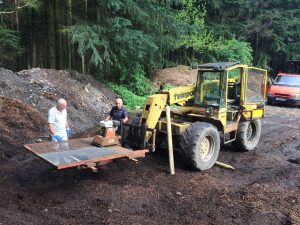 We don't really need such a large machine to do this, we just like playing with big boys toys.
The problem with using equipment once a year is that things don't always go as expected.  In trying to start the whacker plate the starting cord broke……
Then, in trying to replace the cord the recoil spring flew out and unwound…
But luckily with our new "fixit man" Roy, and master recoil fixer Terry Burns, we put it back together and started the engine.  Phew !
At that point it's all hands to the pumps as we throw 4 tons (yes, FOUR TONS !) of wood chipping onto the grid, which shakes the fine stuff through so we can discard all the big lumps.
We then bag up the riddled compost into old garden plastic bags, load them onto Paul Johnson's truck and offload them safe and ready to cover the village flower beds to keep the weeds done.  Thankfully, the girls (Irene and Jan) arrived with much needed tea and coffee…..
So, all done for another year …… 150 bags (did I mention 4 tons?).